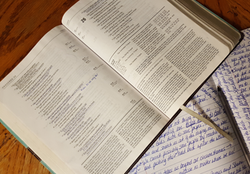 Values:

We believe in the gospel of Jesus Christ and in the Bible as God's inerrant Word. As ambassadors for God, we conduct ourselves with honesty and integrity, doing our best to exemplify Jesus' character at all times, in all situations. However, we acknowledge that God is not done with us yet; and, that by His sanctifying work is molding us into the very image of Jesus Christ -- a process that will not be completed until we see Him in eternity.

We do not believe that denominations, liturgy, or traditions should interfere with the furtherance of the kingdom and it is our goal to partner with believers from all walks of the Christian faith to support them in the ministry God has already called them to. We believe that God has given each person a mission and a calling and rather than trying to usurp or compete with our fellow believers, we should work together to reach the lost.

As believers our primary responsibility is to "Love the Lord, our God with our total being" and to "Love our neighbors as ourselves." It is with this in mind we will aim to humble ourselves and truly become servants to our brothers and sisters in Christ and to the lost.

Our Verses:

Proverbs 25:25
Like water to a weary soul is good news from a distant land.

We are inspired by the humble, but steadfast faith of Daniel. We know that because of God's unchanging character, we can find hope in Daniel 10:17 - 19, where Daniel sees the heavenly being in a vision. In humility and brokenness Daniel cries, "How can I, your servant talk to you, my Lord? My strength is gone and I can hardly breathe." vs. 18 Again, the one who looked like a man touched me and gave me strength. vs. 19 "Do not be afraid, O man highly esteemed," he said. "Peace! Be strong now, be strong."

We recognize the enormity of this mission and know the journey will be long and arduous. The undertaking we have embraced will be taxing on our family, finances, and faith. However, more than anything we pray that when we reach heaven's throne the Lord will look upon us, remembering the manner in which we lived here on earth, and He would call us "highly esteemed." We pray that the culmination of our faith and lives would be like that of Daniel, and that the Lord would use our completely ordinary lives for something extraordinary.

We will remember His words, "Peace! Be strong now, be strong!"


---