Good Samaritan Shipping Ministries, Inc. is a conglomeration of people, denominations, and walks of life, united under the goal of spreading the gospel of Jesus Christ. We seek to eradicate boundaries erected by the barriers of denominational differences and truly work as a united front. Our only requirement for partnership is a heart for the Lord and a real belief in and surrender to the Lordship of Jesus. If you would be interested in joining us as a board member, volunteer, marketing partner, or for any other purpose you feel being led to, please contact us today!

Board of Directors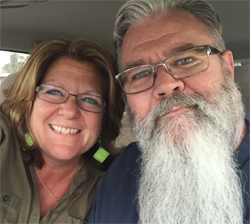 Jeff and Sheri Fields
The Fields are a dynamic couple full of passion and fire for the Lord. Jeff is the Discipleship Pastor at First Baptist Jensen Beach, in Jensen Beach, Florida. Sheri is an incredibly talented creator who has been in graphic design and website development for years. Together these two lend brutal truth and maturity, with a healthy dose of excitement to GSSM.

It is said that Jeff preached the "greatest sermon ever" during a routine Wednesday night class at church. With light in his eyes and fire in his voice he laid out the challenge, that a life pleasing to the Lord doesn't have to be painted in gray and beige. Within the boundaries of the scriptures, we find complete freedom to live a life of wild and passionate adventure for God. This is a mindset that permeates all aspects of their beautiful marriage and spills out into all the endeavors they tackle.
---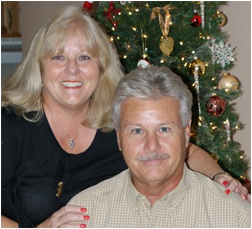 Ken and Linda Bauer
The Bauers are recovering snowbirds who split time between Colorado and Florida for many years before being won over by Florida's charm. There may not be a more genuine and gracious couple, exemplifying steadfast love and warmth. Ken was an incredibly successful business man and brings to the table an unending wealth of knowledge and experience when it comes to running an organization with integrity and skill. Linda has worn many hats, but most notably was able to work side by side with Ken, ensuring the day to day operation of his business ran smoothly. Additionally, Linda has the incredibly valuable gift of hospitality, making her home a welcome haven.

The Bauer's were unwittingly sucked into GSSM when they befriended the Downses, catching the excitement for the dream. We thank God for the wisdom, experience, and steady calm they bring to the team.
---
The Downs Family
Good Samaritan Shipping Ministries, Inc. was dreamed up behind James' shop where he was the lead technician for an exclusive yachting facility. After years in the marine industry, he felt the familiar tug on his heart to do more than just earn a paycheck. For years he had been saying that he wasn't doing what he was supposed to be, but the thought never progressed farther. He had never understood just what "it" was he should be doing, this time however, it was different and he finally had the "what."

The mission of the ministry built and grew and culminated into a vision on the back porch of James and Shawna's south Florida home. After months in prayer with their spiritual leaders, the Downses emerged with confirmation this was God's will for their lives and they began to step out in obedience and a whole lot of faith.

---